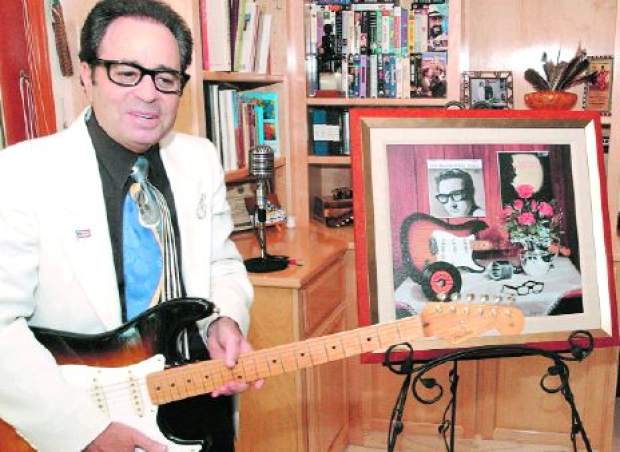 Lake Wildwood artist and singer Allan Berman isn't afraid to stretch himself.
"Everything I've ever gone after, I've gotten," he noted.
Case in point is his most recent painting, two years in the making, which Berman calls his "best ever." Titled "True Love Ways," the painting is a tribute to rock 'n' roll legend Buddy Holly.
Berman never dreamed, however, that the finished product would be endorsed by his idol's widow, Maria Elena Holly. It took Berman a year of negotiations with her lawyers before she called Berman.
The title "True Love Ways" refers to the song Holly wrote for his wife.
"'True Love Ways' was the song that when Buddy performed, he always dedicated to me," said Maria Elena Holly by phone Monday from her home in Dallas.
"Allan's painting deeply touched me. It brought back so many memories. When I saw the red roses in the painting, it brought back the memory of when Buddy presented me with red roses and proposed to me," Maria Elena Holly added. "I am so happy that Allan produced this beautiful painting. He is so multitalented. I know it is from his heart and soul."
In conjunction with the painting, Berman also produced a CD of 10 Buddy Holly songs, covered by Berman.
Berman and Maria Elena Holly will market and distribute 100 hand-embellished canvas prints, signed by both of them. The prints are currently displayed in an art gallery in the Palm Springs area and at the Buddy Holly Museum in Lubbock, Texas.
A certificate of authenticity, copies of Maria Elena Holly's letter to Berman, a photograph of her signing the print, and Berman's tribute CD will accompany the print.
All the Buddy Holly items featured in Berman's painting – from the Fender guitar to Holly's original record of the song – were purchased by the Lake Wildwood resident for several hundred dollars.
"Before I could even start painting, I had to get on the Internet and find all of the items I wanted to use. I spent seven months researching before I ever touched the canvas," Berman said.
To Berman, though, that was research time well spent.
"Buddy Holly has been a huge idol of mine ever since I was 14 years old. I watched him on the 'Ed Sullivan Show' and bought all of his albums," Berman said.
"He was unique in that he wrote his own music and defied what the music industry required. He is one of the founders of rock 'n' roll and has influenced some of the greatest artists of all time, including the Beatles and the Rolling Stones."
It wasn't until Berman retired in 1998 that he began painting full time. Since then, Berman has achieved significant recognition for his art. His paintings have been exhibited throughout the United States and Canada.
"Allan Berman is one of the finest pastel artists in the world," said Kay Swena, director of the Water's Edge Gallery in Rancho Mirage, where Berman's works have been displayed since October.
Berman has received awards of excellence from the Pastel Society of America, the Pastel Society of the West Coast, and the Pastel Society of the Sierras, among others. He has also received the Nevada County Fair "Best of Show" award three years in a row.
In addition to painting his idols, Berman for the last 20 years-plus has also impersonated them. Other idols are Elvis Presley, Ricky Nelson and Neil Diamond. He won second place in a Bay Area Star Search competition in the early 1980s for his Elvis and Holly covers and has performed all over, including at former President Bill Clinton's televised 50th birthday party.
Berman hopes to open his own gallery in the Palm Springs area, where he lives half the year.
"I would display my work during the day, and then on nights and weekends I would perform," Berman said.
For now, though, Berman is excited about meeting Maria Elena Holly in person.
Berman, who has only spoken to her on the phone, will visit Buddy Holly's widow when he donates a print to Texas Tech University Aug. 28.
"I'm going to give her a big hug," Berman said. "I'd like to sing to her 'True Love Ways' if I can get through this without crying."
Read full article at TheUnion.com